Guide to Legal Services for Aboriginal People in NSW and the ACT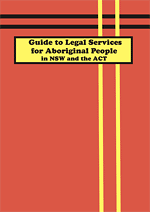 A guide to legal services available to the Aboriginal and Torres Strait Islander (Aboriginal) residents of New South Wales (NSW) and the Australian Capital Territory (ACT). The organisations included provide legal services at little or no cost to clients.

The Guide was compiled by the Aboriginal Legal Service (NSW/ACT) Limited (ALS) and the NLAF Working Group on Aboriginal Clients.

The Guide [1.59Mb] is now available for download as a PDF.